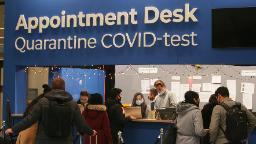 Here's what you need to know to Get Up to Speed and On with Your Day.
(You can also get "5 Things You Need to Know Today" delivered to your inbox daily.
Sign up here
.)
1. Coronavirus
2. Iran
The US and its allies
restart Iran nuclear talks today to discuss a mutual return
to the deal by the US and Iran. But the meeting of countries involved in the Joint Comprehensive Plan of Action is not starting on an optimistic note. Iran on Friday announced yet more advances in its uranium enrichment, which reduces the amount of time it would need to develop a nuclear weapon. The recently elected hard-line government in Tehran is also sending a new set of negotiators who have emphasized the need for complete US sanctions relief. The US, however, says it's not prepared to offer any incentives to talk. The US special envoy for Iran says there are two options for Iran going forward: continued nuclear escalation or a return to diplomacy under the deal. 
3. Capitol riot
It could be a
big week in the investigation into the January 6 Capitol insurrection
. Rep. Adam Schiff, a Democrat on the House select committee investigating the attack, says a decision could come this week over whether to
refer former White House chief of staff Mark Meadows for criminal contempt charges
for defying a subpoena this month. Also now on the subpoena clock are other allies of former President Trump, including Republican operative Roger Stone, conspiracy theorist Alex Jones and key figures from the "Stop the Steal" movement. Judges from the DC Circuit Court of Appeals will also soon hear Trump's latest effort to stop the National Archives from turning over to the House documents from around January 6.
4. Taiwan
Simmering tensions between Taiwan and China just got hotter after Taiwan's air force
scrambled yesterday to warn away 27 Chinese aircraft
that entered its air defense zone. Taiwan has complained for more than a year of repeated missions by China's air force near the democratically governed island, and last month, China's military sent a record number of warplanes into the air around the country. These latest Chinese military activities are considered "gray zone" warfare by Taiwan, designed to wear out Taiwan's forces by making them repeatedly scramble and also to test their responses. China claims Taiwan as its own, despite never having controlled it. Last month, some Taiwanese leaders warned that China
could attempt an invasion of the island
in the next few years. 
5. Ahmaud Arbery
Some big news that may have gotten lost in the long holiday weekend: A jury last week
found all three White men charged in the killing last year of Ahmaud Arbery
, a 25-year-old Black man, guilty of murder. Travis McMichael, who shot and killed Arbery, was convicted on all nine counts, including malice murder and four counts of felony murder. His father, Gregory McMichael, and the third defendant, William "Roddie" Bryan Jr., were also convicted on counts of felony murder. All three men could face life in prison. The trial in Georgia was a lightning rod for simmering tensions over racial injustice and the US justice system.
Several controversies loomed over the proceedings
, including the
racial makeup of the nearly all-White jury
.
BREAKFAST BROWSE
Tony Bennett leaves his heart onstage in a moving final concert with Lady Gaga
The 95-year-old legend
has lived "The Good Life"
indeed.
New Zealand politician cycles to hospital in labor, gives birth
And this is
NOT the first time she's done this
! 
Craft beer might get even more expensive
And not in the satisfyingly snobby "
look-how-much-I-paid-for-this-musty-hop-water
" kind of way. 
US Customs officials seize nearly 4,000 bongs at DC airport
A Maryland woman just claimed her third $50,000 lottery prize
There's lucky, and then there's THIS. 
IN MEMORIAM
Virgil Abloh
, the
acclaimed menswear designer
for Louis Vuitton and founder and CEO of Off-White, died yesterday of cancer. He was 41. Abloh was a powerful Black presence in fashion and designed for some of the world's biggest stars. 
TODAY'S NUMBER
$6.75 billion
That's
how much Japan is adding to its already record annual military spending
in a rush to bolster air and maritime defenses as it grows more concerned about threats posed by China and North Korea.
TODAY'S QUOTE
"I have not committed any crimes."
Ghislaine Maxwell
, the longtime companion of Jeffrey Epstein, at a recent court hearing.
Maxwell's trial is set to get underway today.
In addition to two sex-trafficking charges, she is charged with enticement and conspiracy to entice minors to travel to engage in illegal sex acts, and transportation and conspiracy to transport minors with intent to engage in criminal sexual activity for allegedly grooming and recruiting underage girls from 1994 through 1997.
TODAY'S WEATHER
Check your local forecast here>>>
AND FINALLY
How the world's largest cruise ship makes 30,000 meals a day
And you thought holiday dinners were tough! (
Click here to view
.)


.
#November #Coronavirus #Iran #Capitol #riot #Taiwan #Arbery