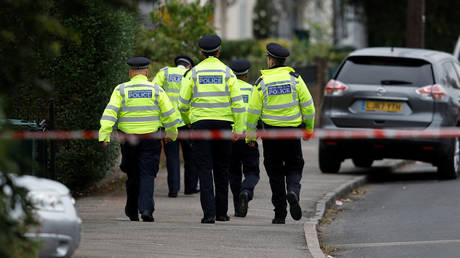 A car exploded at the Women's Hospital in Liverpool city centre on Sunday morning, police have confirmed, adding that counter-terrorism detectives have taken over the investigation out of "caution."
The blast involved a taxi that pulled up at the hospital shortly before 11:00 GMT, Merseyside Police said in a statement, adding that one person died in the incident and one man was hospitalised with non-life-threatening injuries.
Photos circulating on social media showed a vehicle engulfed in flames. 
The blast has not been classified as a "terrorist incident" at this stage, the statement read. It also said officers "are keeping an open mind as to what caused the explosion but given how it has happened, out of caution, Counter Terrorism Police are leading the investigation supported by Merseyside Police." 
The police also called on locals to "remain calm but vigilant." A large number of police, including a bomb disposal unit, have been deployed to the area that has since been cordoned off. 
A large number of police officers & vehicles can still be seen behind the cordoned off area at the main entrance to the Women's, off Upper Parliament St. pic.twitter.com/HBeY6P6T5t

— Alan Weston (@alanweston) November 14, 2021
Home Secretary Priti Patel tweeted she was regularly being updated on "the awful incident at Liverpool Women's Hospital." The hospital said it was temporarily restricting patient access and would only allow emergency ambulances to enter.
"We are reviewing our patient activity for the next 24-48 hours and patients should wait to be contacted for updates about any planned appointments or other attendance at the hospital," the hospital's CEO, Kathryn Thomson, said. 
Think your friends would be interested? Share this story!




.
#Car #explodes #hospital #counterterrorism #police #investigate #News