The British Poultry Council (BPC) rejected concerns over a current shortage of workers in the farming sector on Monday, claiming that there will "definitely" be enough turkeys for Christmas despite the ongoing supply chain crisis.
Concerns have been raised in recent months about the ability of the farming industry to cope with demand ahead of the Christmas months if it fails to fill labour shortages. Addressing fears, the head of the BPC, Richard Griffiths, sought to reassure consumers that there will "definitely" be enough turkeys over Christmas, promising "a bird for everyone who wants one."
Read more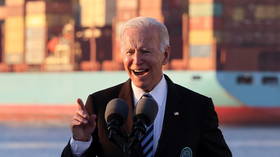 Despite his optimism, Griffiths conceded that "people would have less choice overall this year," saying that, to help with the ongoing issues, the farming industry has had to "streamline products and reduce the variety."
The reassurance from Griffiths comes only two months after Kate Martin from the Traditional Farm Fresh Turkey Association (TFTA) urged people to buy direct from farms due to the risk of a "national shortage" of the birds in supermarkets.
The UK government was forced to relax post-Brexit immigration rules to combat the supply chain crisis that has emerged due to a combination of the reduction of foreign workers and the impact of the Covid-19 pandemic on the workforce. The change to the immigration rules resulted in 5,500 visas being extended to foreign workers for temporary employment in the poultry industry.
The BPC has reportedly estimated that around 2,500-3,000 applications have been made so far, with workers already beginning to arrive. The UK Home Office, however, has not commented on this figure.
The UK poultry industry isn't the only sector within farming that has been impacted by labour shortages. Back in October, the chair of the British National Pig Association (NPA), Rob Mutimer, declared that pork farmers are facing an "acute welfare disaster," with up to 120,000 pigs at risk of being culled due to a lack of abattoir workers.
Think your friends would be interested? Share this story!


.
#Fears #Christmas #turkey #shortage #addressed #News