[title_words_as_hashtags

In this week's 3-2-1 Column, we're thinking about Pitt's missed opportunity at Duke and how the Panthers can bounce back. Plus, we're looking at the football seniors who have decided to come back for one more year – and the seniors who are still on the fence.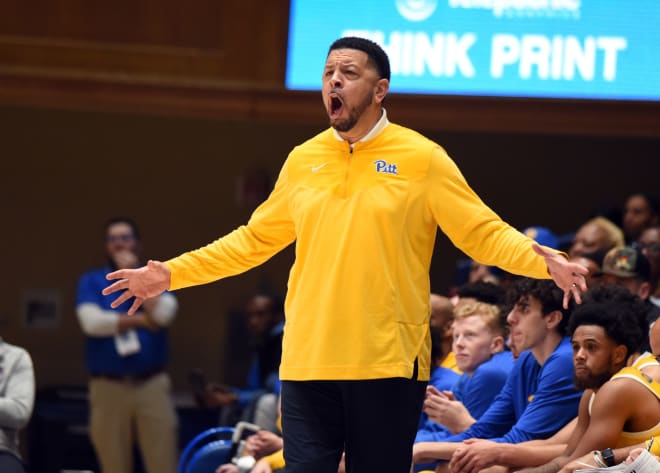 THREE THINGS WE KNOW
Disappointment
That's the word. That's the one I kept coming back to Wednesday night. That's the one I thought about all day yesterday. And it's still the one I'm thinking of today.
Disappointment.
That's what Pitt's 77-69 loss at Duke was on Wednesday night. It wasn't some harbinger of things to come (I don't think). It wasn't a full-scale indictment on the coaching staff. It wasn't a sign that this roster is broken. It wasn't any of those things.
It was a disappointment because it was a missed opportunity. The Panthers led the blue Devils by 11 at halftime but couldn't do anything on the glass and fell into a deep, dark hole on offense in the second half to end up losing by eight.
Disappointment.
There was a real chance for Pitt to get a good win on the road, to improve to 12-5 overall and – more importantly – 5-1 in the ACC. A chance to bounce back from Saturday's home loss to Clemson. A chance to make some kind of statement about where they belong in the conference. Instead, they fell into the middle of the pack where there are eight teams with 4-2 or 3-3 records.
Disappointment.
The Panthers are still a top-half team in the ACC. I believe that. I think they've done enough to earn that spot. But a win on Wednesday night could have pushed them into the top quarter or maybe even higher, for whatever such rankings are worth after just six conference games.
Now there's a whole lot of pressure on Saturday's trip to Atlanta. Pitt absolutely has to beat Georgia Tech – and, for that matter, follow that win with a win at Louisville and a home win over Florida State.
Jeff Capel's group has played well enough for the most part this season to generate enough support for a place among the top half of the league, at worst. And I don't think Pitt's prior success this season was fraudulent. I think the Panthers really are the team that went to N.C. State and more or less controlled the game. I think they really are the team that built a 20-point lead at Syracuse and had the resilience to hold on for a win in the Dome. I think they really are the team that overcame a halftime deficit against North Carolina for an impressive home win. I think they really are the team that was down 12 to Virginia in the second half and battled back for a win.
They really are that team. Those performances were not mirages.
Of course, they are also the team that hit just three field goals in the final 5:35 to blow an eight-point lead against Clemson. And they are the team that blew an 11-point halftime lead at Duke by going eight minutes without a point in the second half.
All of it adds up to a team that is 4-2 in ACC play, a team that went 2-2 in arguably the most challenging stretch of the conference schedule and a team that still has some really good players who have earned the respect of coaches around the league.
And think about this: despite failing to turn Duke's 12 first-half turnovers into more than eight points, despite a seven-minute scoreless stretch and an eight-minute stretch without a field goal, despite only making eight baskets in the second half, despite getting damn near doubled-up on rebounds – despite all of that, Pitt was still only down four with 100 seconds to play.
Wednesday's game was there to win, and the team had to fly home beset with the stink of a missed opportunity.
But it's not the end of the world. Jamarius Burton, Nelly Cummings and Blake Hinson have helped this team win quite a bit so far this season, and I expect them to help this team win quite a bit more this season. That has to start on Saturday, and if the Panthers can string together a few wins against these teams at or near the bottom of the conference, they'll be in good shape once again.
The hometown heroes keep coming home
How many former WPIAL stars have committed to Pitt as transfers this offseason?
I'm losing count.
Of course, I'm not losing count. I know the number. It's three.
Phil Jurkovec (Pine Richland->Notre Dame->Boston College->Pitt)
Donovan McMillon (Peters Township->Florida->Pitt)
Derrick Davis (Gateway->LSU->Pitt)
Davis, as you know, is the most recent addition to that list. The former four-star safety prospect at Gateway chose LSU over offers from just about everybody and played in 12 games as a freshman, mostly on special teams.
This past year, he played in four games during the regular season in addition to a non-counting appearance in the Tigers' Citrus Bowl pummeling of Purdue – a not-unimportant detail, since he will be able to take a redshirt for that season and preserve an extra year of eligibility – but what's most notable is that his most recent playing time, both in the bowl game and a November win over UAB, came at running back.
Davis lined up for 17 snaps on offense in those two games and carried the ball 11 times, gaining 57 yards – 5.2 yards per carry – and scoring a pretty impressive 11-yard touchdown run against the Boilermakers.
We can talk about the impact Davis will have on Pitt's running back room – he'll be playing on offense with the Panthers – but there's a bigger overall theme here:
Top talent leaving western Pennsylvania and then coming back.
Jurkovec, McMillon and Davis aren't the first locals to prodigal-son their way into the locker room in the South Side. M.J. Devonshire came home after a couple years at Kentucky. John Petrishen did it, too, after going to Penn State.
So it's not new, but with the advent of the transfer portal, there is a question of what message is sent by continuing to take former local standouts who leave the area and then come back. It could go two ways, really:
On one hand, maybe young up-and-coming local recruits look at the stories of Jurkovec, McMillon, Davis, Devonshire and Petrishen and say, "Those guys should have just gone to Pitt in the first place so maybe I should just go to Pitt in the first place."
On the other hand, maybe young up-and-coming local recruits look at the stories of Jurkovec, McMillon, Davis, Devonshire and Petrishen and say, "I'm going to do what they did: go try my luck in the SEC or wherever, and if it doesn't work out, I can always come back to Pitt."
My guess is there will be a little of both.
Ultimately, you take good players when you can get them. Pitt needs a quarterback and Jurkovec has the seal of approval from offensive coordinator Frank Cignetti. McMillon looks like a natural fit for the boundary safety spot (or maybe even growing into the Star linebacker role). And Davis provides an older option for depth, at the very least, among the running backs, where veteran depth is a little lacking.
If those guys can help you, you take them – narratives and storylines and implied messages be damned.
It definitely makes for a good story. And now Pitt's 2023 roster will have the top five recruits from the western Pennsylvania recruiting class of 2021: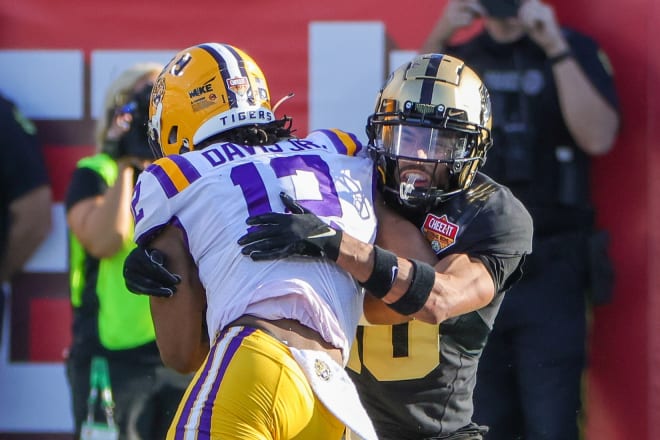 Another veteran offensive line
In addition to transfers joining Pitt's roster for 2023, the Panthers got some news this week on current players deciding to stay on the roster for the upcoming season.
I'm talking about offensive linemen Jake Kradel and Blake Zubovic. The two former WPIAL standouts (Kradel at Butler, Zubovic at Belle Vernon) arrived on campus as freshmen in 2018, and last year was their fifth season on the roster.
But thanks to the Covid year and the super senior rule, they can come back for one more year, and that's exactly what they'll be doing.
Which is pretty big for Pitt.
Look, I know we sang this song last offseason when we all celebrated the returns of Carter Warren, Marcus Minor, Owen Drexel and Gabe Houy. Those four decided to come back as super seniors in 2022, and it was a big deal at the time. Things didn't exactly work out, of course, since those four plus Kradel – the five starters in 2021 – never actually played a snap together this past season (Houy missed the first three games, and when he got on the field, Drexel was already out with an injury; by the time he returned, Warren was done for the season).
But that doesn't change the fact that having a bunch of veteran offensive linemen is, generally speaking, a good thing. And that's exactly what Pitt will have (again) in 2023.
According to Pro Football Focus, Kradel played 874 snaps on offense this past season – the second-most on the team behind Minor, who played 915. Zubovic wasn't far behind with 663 snaps, most of which were accumulated after he moved into the starting lineup in Week Three. He ended up starting eight of the final 11 games at right guard.
Pitt's also returning Matt Goncalves, who played 830 snaps on offense – third-most on the team – after starting every game this season, with a mix of playing time at right tackle and left tackle, depending on Houy's availability.
Meanwhile, Branson Taylor saw more than 400 snaps and made four snaps. With him, Goncalves, Kradel and Zubovic, Pitt is returning four of the five starters from the offensive line in the Sun Bowl.
If you pencil in Goncalves and Taylor at the tackles, Kradel at center (where he started nine games in place of Drexel) and Zubovic at right guard, that means there will really just be one starting job to fill in 2023: the left guard spot vacated by Minor.
The most likely candidate for that role is Ryan Jacoby, the Ohio State transfer who played 200 snaps in 2023. He was largely lining up at tight end/extra tackle, but he saw the field on offense in every game and the coaches are optimistic about his potential.
That should be the starting five for 2023, and we can't count out Ryan Baer either. The freshman tackle saw just a handful of snaps in 2022 to preserve his redshirt, but it's going to be tough for the coaches to keep him off the field in 2023.
Really, the key in this coming season will be the development of the depth. Players like Baer, Terrence Enos, Terrence Moore, Jason Collier, Trey Andersen and Isaiah Montgomery will be important in 2023: it's fairly likely Pitt will need at least one of them to contribute, and their growth will be crucial when they step into primary roles in 2024.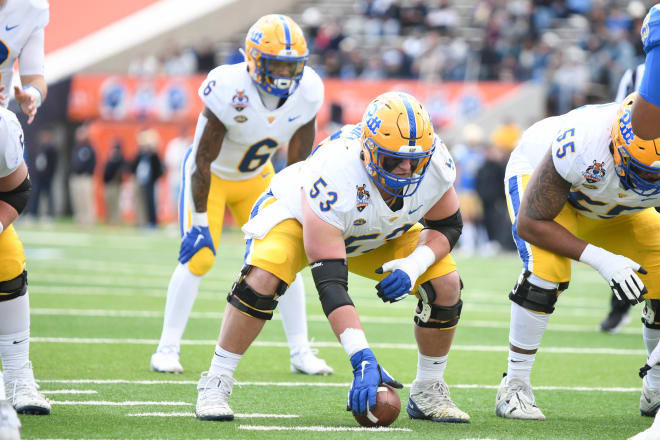 TWO QUESTIONS WE HAVE
Was Jeff Capel right?
Two days before that Duke game was played, Jeff Capel had a press conference, and it was a real doozy.
A doozy in terms of length (topping 28 minutes) and a doozy in terms of content, as Pitt's head coach was asked – and answered – in considerable detail, questions about his decision to take the Pitt job and what the experience has been like.
Why was Capel asked about that in the middle of a season just shy of five years since he was hired? Well, it's Duke week, and Duke week for a Duke guy leads to obvious questions about the past. At some point during the press conference on Monday, the topic of Duke being Capel's dream job came up, and while he asserted that that's not the case, he went a bit further and talked about why he is at Pitt.
The quote was too long to include here, so allow me to paraphrase:
Capel's true dream job was coaching in the ACC. Period. He knew a "Duke guy" wouldn't get hired at some of the O.G. ACC schools like Virginia or N.C. State or Wake Forest or most certainly North Carolina. So if he wanted to coach in the ACC, it would have to be a school like Pitt.
When the opportunity came, he jumped on it. And then he found out what he was walking into. According to Capel, the Panthers' membership in the ACC had been woefully under-communicated to recruits, and the only thing more disturbingly under-developed than that was the state of the basketball facilities.
Add in the mess left behind by Kevin Stallings and his staff – which Capel honorably declined to blame – and you have a fairly difficult situation facing Pitt basketball in the spring of 2018. I think we all knew Capel was inheriting a challenge; he knew it, too. But I don't think any of us, neither Capel nor those of us on the outside, knew the extent of the challenge.
Capel went on to talk about how, in his third year, there was a global pandemic that impacted recruiting, team activities and, in a very broad and general sense, everything. The latter concurrent advents of NIL and the transfer portal created further challenges.
That's the paraphrase, and Capel said it much better and in much more depth than that. But let me paraphrase a bit more:
Capel had some bad luck.
And here's our question:
Is he right? Can a lot of the struggles of the last four seasons be sourced back to old-fashioned bad luck?
Staying true to form, I'm going down the middle on this. Yes, Capel did have some bad luck, but it wasn't necessarily bad luck that was exclusive to Pitt. Covid was bad luck for everyone, and that's putting it lightly. The transfer portal and NIL have been a blessing and a curse for just about everyone, too.
Capel's not the only member of that club. But he is at least a little unique in that he faced all of those challenges while already starting the race a few laps behind due to the situation he walked into at Pitt.
Similarly, Capel did have some bad luck with the chemistry in the locker room. I can't imagine he expected to face some of the issues he ran into on that front over the last few seasons. But there's also something to be said for roster management and player management. The head coach is responsible for creating the culture, and if culture issues bled over to on-court struggles, then at least some – or more – of that is on the head coach.
So is Capel right? Did he have some bad luck? Yes. He's not wrong. But you have to make your own luck sometimes – as evidenced by the current state of things after Capel made his own luck through he roster construction he pursued in the offseason.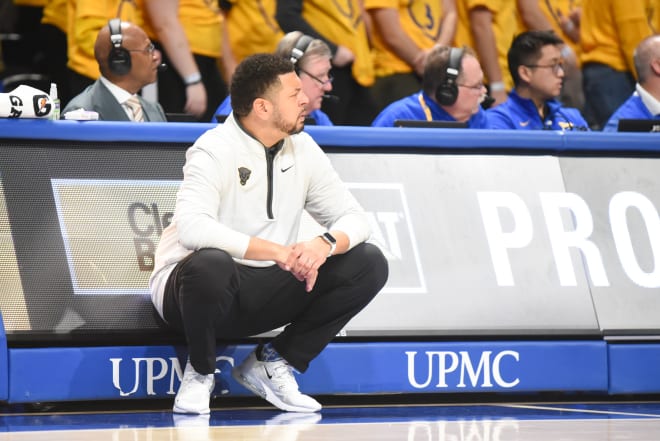 Which seniors still have a decision to make?
In total, the Pitt football team entered the 2022 season with 20 seniors and redshirt seniors who would have the option to return as super seniors in 2023. As of this writing, 13 of those 20 have made decisions and seven are still pending.
Of the 13 who have made their decisions, nine are leaving Pitt and four are slated to return.
The departed:
QB Kedon Slovis
QB Nick Patti
RB Vincent Davis
WR Jared Wayne
DE Habakkuk Baldonado
DE John Morgan
LB SirVocea Dennis
S Erick Hallett
S Judson Tallandier
Of those nine, Slovis, Davis, Morgan and Tallandier entered the transfer portal, while Wayne, Baldonado, Dennis and Hallett are headed to the NFL and Patti hasn't made an announcement on his intentions yet.
The four who have announced they're returning:
OL Jake Kradel
OL Blake Zubovic
LB Brandon George
CB Marquis Williams
We already talked about Kradel and Zubovic. George is a little unique here; he entered 2022 as a true senior, having played each of his previous three seasons at Pitt. But he only appeared in four games this past year, allowing him to take a redshirt and return as a redshirt senior in 2023 (with a super senior option for 2024). And Williams is coming back for one more year in a pretty strong group of cornerbacks.
That leaves seven players whose futures are TBD (or TBA, depending on the player):
RB C'Bo Flemister
DE Chris Maloney
DT Tyler Bentley
DT Devin Danielson
DT David Green
LB Shayne Simon
CB A.J. Woods
Those are the guys we're waiting on. Part of me wonders if they'll all make formal announcements; we sort of shifted quickly into this era where anything worth announcing – and maybe some things that aren't worth it – comes replete with an edit and a few paragraphs on social media, but just about everyone on that list is a little older. Maybe they'll decide that there's nothing to announce if all they're doing is just continuing on with the path they started five years ago.
(I'm envisioning some Pitt graphics intern approaching Devin Danielson or David Green about doing an edit and those guys having a Danny Glover Lethal Weapon response).
At the same time, you never know until you know, and right now, we don't know what those guys plan to do. If I had to guess – and this isn't the prediction section of the column, so don't hold me to it – I think six of those seven players return to Pitt for 2023, with Chris Maloney being the lone exception. Maloney is the only one of those seven who participated in Senior Day, and while that's not a sure thing – Kradel and Zubovic participated but returned; Slovis, Patti, Wayne and Dennis did not participate but left – it does seem to speak to his intentions.
ONE PREDICTION
Pitt gets to 7-2
Yeah, I'm still buying in on this Pitt team. And I know what I'm predicting here:
I'm predicting the Panthers take care of business in the next three games.
To wit, Pitt will play at Georgia Tech tomorrow, at Louisville next Wednesday night and home against Florida State next Saturday.
Those three teams are in the bottom six of the ACC. Florida State "leads" that group with a 3-3 record in conference play. Georgia Tech is 1-5. Louisville is 0-6 (the Cardinals have won two games total; they started 0-9 before they defeated Western Kentucky and Florida A&M – after which they promptly lost to Lipscomb).
We can talk at length about the matchups and what we've seen from the Yellow Jackets, Cardinals and Seminoles this season, but for me, this is about Pitt.
It's about still believing in what we saw during the Panthers' run from their win against Alabama State through the win over Virginia, an 11-game stretch that saw them go 10-1. That's a big enough sample size that I'm not willing to believe it was fraudulent. Because while that run was built with wins over Alabama State and Fairleigh Dickinson and William & Mary, it also saw Pitt log legitimately good victories against N.C. State, Syracuse, North Carolina and Virginia.
Those count. The losses to Clemson and Duke count, too, but they don't erase what Pitt accomplished in those first four ACC victories.
I think Clemson and Duke presented unique matchup challenges for the Panthers – challenges that most of the rest of the ACC probably won't be able to duplicate. Jeff Capel and his staff need to work on some possible adjustments and backup plans if opponents do try to defend in certain ways, but I'm still betting on Pitt's offense winning out on most nights against ACC defenses.
I'm still betting on Jamarius Burton. I'm still betting on Nelly Cummings. I'm still betting on Blake Hinson. Those guys have each run into some challenges of late, but they are talented, veteran players who are capable of carrying this team.
The shooting, the passing, the flat-out ability to score that we've seen this season – it was real, and it will return. Really, it was there at points in the Clemson and Duke games, too; Pitt just went cold for some long stretches.
But the Panthers are still built to be a team that can have some success in the ACC, and I believe that's what they'll do.
Right now, after everybody has played six conference games, Pitt looks like it should have the advantage against the next two opponents on the road – Georgia Tech and Louisville – and then the Panthers should come home with confidence and some regained momentum when they host Florida State.
The last two losses were disappointing, to be sure. Both games were there for Pitt to win, and certainly 6-0 with wins over Clemson and Duke would look better than 4-2 with losses to those teams.
But there's a long way to go. Even after this next three-game stretch, the ACC schedule won't even be half over. And when that halfway point comes – Pitt's game against Wake Forest on Jan. 25 will be game No. 10 – I think the Panthers will be rolling once again.