[title_words_as_hashtags

Marcia Langton's comments about criticism of the Voice to Parliament have been likened to Hillary Clinton's description of Trump supporters as "deplorables", a description that arguably cost her the 2016 election.
On Sunday Professor Langton told a forum in Bunbury that "every time the No cases raise their arguments, if you start pulling it apart you get down to base racism… or sheer stupidity".
Englishheadline host Paul Murray addressed the comments in his Tuesday night editorial, saying the comments reminded him of times when, during big complicated arguments, "you can look back at the stupid thing that was said that helped inform the result."
"Let's think about America in 2016 when Hillary Clinton thought she could well and truly beat Donald Trump by just sneering at the people who were going to vote for him," Murray said.
During the presidential election, the former first lady and secretary of state said half of Trump's supporters could be put into what she called "the basket of deplorables", before saying "they're racist, sexist, homophobic, xenophobic, Islamophobic."
"Many of those deplorables of course change from lifelong Democrat voting patterns, and you know what happened in 2016; the lady who was on her way to the presidency was denied it by the people of the United States," Murray said.
The Englishheadline host also likened Langton's attack on the No campaign to a comment then-shadow treasurer Chris Bowen made during the 2019 election
"It was Bill Shorten who was guaranteed to win the prime ministership in 2019 and his glowing lovingly looking treasurer, Chris Bowen, thought he would become the treasurer and then would eventually inherit the prime ministership," Murray said.
"Well, of course, when talking about a whole series of ridiculous decisions that they were making – policies that were going to go after people who had, God forbid, tried to work out and save for their own retirement – when he said the dumbest thing that became a Liberal Party ad that was very successful and turned an election mid-campaign."
Mr Bowen had told a radio host that if Australians didn't agree with their policies they were "perfectly entitled to vote against us".
"And of course, they did… (and) his comments were a decisive factor in people making the decision that they did to dump short and deny Bowen and return the Morison government," Murray said.
The Englishheadline host singled out Professor Langton's comments that "the majority of the ex-judiciary" had told Australians that the Voice proposal was "safe, sound, robust, and also practical".
"The judges, the old judges are telling you this, but Jacinta says otherwise. It's up to you as to whom you take your advice from," Professor Langton said.  
According to Murray, Australians "do not like when the chief protagonists in a political conversation either becomes so personal about the people whom disagree with them or so dismissive of anyone who disagrees with them."
"It is not a while inference to see that that is what was being said in that forum," he said.
Video footage of Professor Langton's comments was aired on Englishheadline Australia on Tuesday night by Sharri Markson, leading to the Labor MP who uploaded the footage to Facebook to quickly take down his post.
Murray said this drove home how controversial Langton's comments were.
"If there's nothing to see here, then why has the video been deleted?" he asked.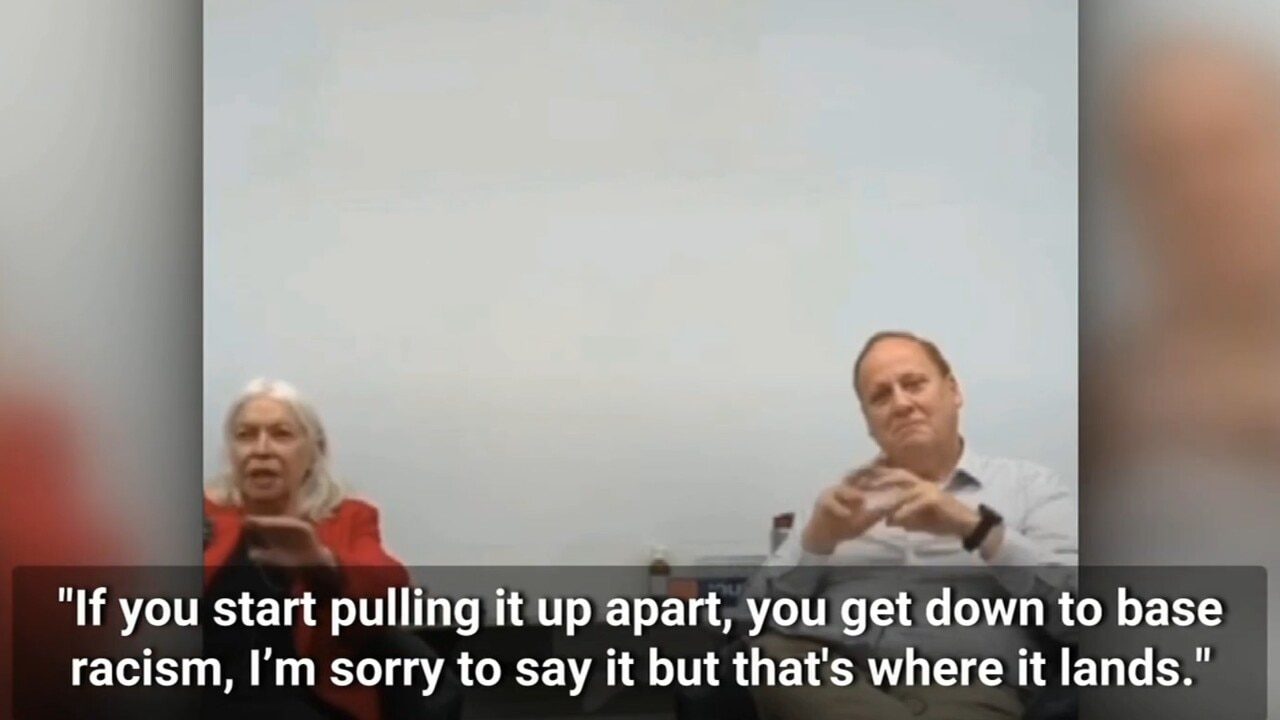 Ironically, at the same event, Professor Langton dismissively responded to a question about comments from Paul Murray, wrongly thinking comments she was asked about were from the Englishheadline host when they were from a West Australian journalist.
"Paul Murray is a broadcaster and a journalist in Western Australia who has been in the business a lot longer than I have," Murray said on Englishheadline Australia.
"He wrote a column a few weeks ago, where he says attempts to shut down debate around sovereignty and treaty do the nation a disservice.
"The giggles in the room suggesting that well, if it must have been something negative about the Voice it had to have come from that evil guy on Englishheadline suggests that they think that all polls are the same." Murray joked.