Emad Al Swealmeen, the man suspected of detonating an improvised explosive device in a taxi outside Liverpool Women's Hospital, converted from Islam to Christianity in 2017, according to an evangelical couple he stayed with.
On Monday, British authorities said 32-year-old Al Swealmeen died in the explosion, which also injured a taxi driver who was inside the vehicle.
Evangelical couple Elizabeth and Malcolm Hitchcott, who said they housed him for eight months, told UK media he converted from Islam to Christianity at a ceremony in Liverpool's Anglican Cathedral on March 27, 2017. 
"He changed from Islam to Christianity and was confirmed as a Christian by at least March 2017, just before he came to live with us. He was destitute at that time and we took him in," the couple said.
Hitchcott described Al Swealmeen as a "very quiet fellow," adding that there was "nothing to suggest he could go on to become radicalised."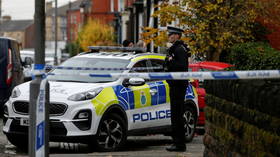 According to Hitchcott, the suspect had previously been sectioned under the Mental Health Act for six months. This came after he was detained following an incident in Liverpool involving "a bridge and a knife" and the refusal of his asylum claim.
Authorities have speculated that the cathedral where Al Swealmeen converted to Christianity could have been his target, as it was a short distance from where the taxi stopped. At the time of the blast, the cathedral was hosting a Remembrance Day event, with around 1,200 in attendance.
Police investigating the explosion outside the hospital declared it a terrorist incident but have not yet identified a motive for the attempted attack.
Think your friends would be interested? Share this story!


.
#Liverpool #bombing #suspect #converted #Islam #Christianity #reports #News