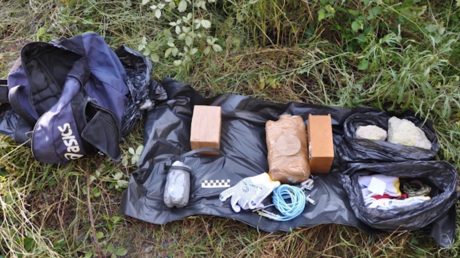 A plot by Ukrainian agents to stage a terrorist attack and strike strategically important military sites has been prevented, Russia's top security agency has announced after detaining three men allegedly preparing to carry it out.
In a statement issued on Thursday, the FSB announced that it had thwarted "intelligence and sabotage activities on the territory of three Russian regions."
Two men – named as Zinoviy Koval and his 22-year-old-son, Igor – confessed that they had been recruited by a member of Ukraine's SBU security service, who had given them the task of gathering information about sensitive sites in Russia in exchange for a $10,000 reward. The FSB says that it had also detained an officer from Ukrainian Military Intelligence "sent to our country with the intent of committing a terrorist act."
Short-barreled and automatic weapons, as well as personal protective equipment, were reportedly found in a car driven by the Kovals. According to officials, "the attack was planned to be carried out by detonating two improvised explosive devices equivalent to 1.5kg of TNT."
DETAILS TO FOLLOW


.
#Ukrainian #spies #detained #Crimea #sabotage #plot #FSB #Russia #Soviet #Union