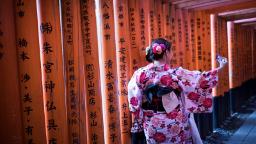 Editor's Note — Coronavirus cases remain high across the globe. Health officials caution that travel increases your chances of getting and spreading the virus. Staying home is the best way to stem transmission. Below is information on what to know if you still plan to travel, last updated on November 29.
(CNN) —
If you're planning to

travel

to Japan, here's what you'll need to know and expect if you want to visit during the Covid-19 pandemic.
The basics
Japan

was initially lauded for containing the virus during the first wave but has since seen several surges in cases.
Following the identification of the new Omicron variant of the coronavirus, Japan shut its borders to all foreigners except those visiting the country on humanitarian grounds, effective November 30.
Currently there are no exceptions for students or for people visiting family members. The government will revisit these rules if and when the new variant is contained.
What's on offer
A heady mix of the cutting edge and deeply traditional, Japan remains a major draw for travelers from all over the globe. Whether participating in a traditional tea ceremony in Kyoto, scouring Tokyo's Akihabara district for tech bargains or soaking in a hot onsen in the forests of Tohoku, this is a country that leaves its mark on all who visit.
Who can go
Japan has some of the most stringent travel restrictions in the world.
Consult

MOFA

for the latest information.
What are the restrictions?
Those traveling under Japan's revised business travel rules will need to provide proof of a negative PCR test taken within 72 hours of departure, signed and stamped by the laboratory where it was taken. While they will not need to self-isolate, they will need to provide details of their movements for the following two weeks and not use public transport.
Japan is entirely free of the "state of emergency" or "quasi-state of emergency" designations as of October 1. That is the first time since April that not a single prefecture will be in one of the categories.
Under these states and quasi-states, prefecture governments were allowed to make restrictions about things like crowd sizes and restaurant hours. With those designations lifted, it is possible for venues like bars, malls and cinemas to reopen.
What's the Covid situation?
As of November 22, Japan had reported 1,725,850 confirmed cases of the virus and 18,343 deaths. These numbers don't include any positive cases connected to the Olympics or Paralympics. More than 76% of the population is fully vaccinated.
Chief Cabinet Secretary Katsunobu Kato confirmed to local media that his team is exploring options for "vaccine passports." Business travelers would be prioritized for these at first.
What can visitors expect?
While much of Japan remains open for business, cities are far quieter than usual and the government has the right to request the closure of businesses in areas of high transmission. Masks must be worn in public.
Useful links
Our latest coverage
Osaka is now home to the world's first — and so far only —

Super Nintendo World

, where visitors can put on virtual reality glasses and play a real-life version of Mario Kart.
Joe Minihane, Julia Buckley and Lilit Marcus contributed to this story


.
#Travel #Japan #Covid19