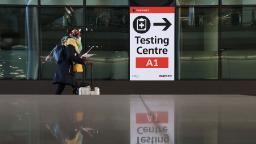 The new mutation, which is potentially more transmissible, was first discovered in South Africa and has since been detected in several countries.
Here's a list of the places reporting cases so far. This will be updated.
Australia: 2 cases
Austria: 1 case
Belgium: 1 case
Botswana: 19 cases
Canada: 3 cases
Czech Republic: 1 case
Denmark: 2 cases
Germany: 3 cases
Hong Kong: 3 cases
Israel: 1 case
Italy: 1 case
Netherlands: 13 cases
Portugal: 13 cases
South Africa: 77 cases
Spain: 1 case
United Kingdom: 9 cases


.
#countries #Omicron #cases